Dragon Claw Black Emerald Pendant Necklace
$29.99
$39.99
About This Product Immerse yourself in the realm of mythology with our unique Dragon Claw Black Emerald Pendant Necklace. This piece is not just an accessory, but a statement of strength and mystique. Crafted from high-quality 316L stainless steel, the necklace features a striking black faceted glass gem, held securely by the dragon's claw. The blackened finish adds a touch of gothic charm, making it a perfect piece for those who dare to be different. Enjoy free shipping options on this dragon claw pendant necklace and all of our other gothic jewelry! Specifications Expertly crafted with detailed precision and top-quality materials Stainless steel pendant features trendy dragon claw design Blackened finish for a unique gothic aesthetic 16" - 18" adjustable stainless steel link chain necklace Detailed artistic design Pendant dimensions = W: 0.71" H: 0.94" Includes holding pouch Free shipping options available Notes 🐉 This item has a processing time of 2-3 days before it's shipped.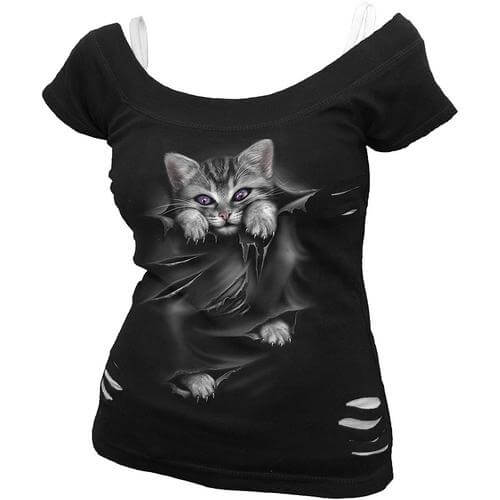 Women's Slashed Goth Kitten Shirt
$29.99
$39.99
About This Product This stylish gothic shirt features an adorable grey little kitten bashfully peeking through the rips with deep purple eyes. Simulated tears in the graphic design combine with intentional precision slashes in the garment to form a truly unique aesthetic. Crafted with 100% cotton using skin-friendly reactive dyes, this goth kitten shirt is designed for long-lasting wearability that helps prevent graphics from fading over time. Combine your love of trendy gothic fashion and kittens with this enchanting women's top! Specifications Made with high-quality 100% cotton Knitted using skin-friendly, azo-free, reactive dyes Durable fabric with long-lasting print design Simulated rips in graphic combine with intentional precision tears for a truly unique aesthetic Machine washable Free shipping options available Notes 😺 This item has a processing time of 3-5 days before it's shipped.
Free US Shipping
Shopping with us means you'll never have to pay for US shipping.
Made With Love
From product creation to packaging, we put our hearts into it.
Pawsitive Vibes Only
Your complete satisfaction is our ultimate priority. Always.